Thanks to everyone who linked up last week!
Usually, I get the travel bug every time I look at each of your posts. But I'm moving to Austin TODAY and I couldn't be more excited. Though I have lived and worked in Austin before, I'm excited to get back there and start doing things that my local travel bug wants me to do. :)
Either way, though, I LOVE looking at your travels. I love this planet! God gave us such wonderful things to explore. Doesn't that tell you how much he must love us to give us such beautiful things?!
On to the travels!
I can't tell you how much I love Monument Valley. Check out the awesome post about this magical place over at
Misadventures with Andi
.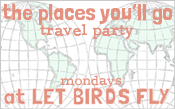 From traveling to another country, to finding a new place to eat in your home town, I love it all.
That's what this link party is about!
Dr. Seuss said in his book Oh, The Places You'll Go:
"You're off to great places
Today is your day!
Your mountain is waiting
So...get on your way!"
Oh, The Places You'll Go is about doing things, getting out there, seeing the sights... all while knowing there are bumps and bruises along the way. I do believe that God has called us to experience the world and what's in it, but most of all, to experience our life, even though our life is risky. :)
I know that you, as a blogger, post on your blog about your travels and experiences. Well, that's what this link party is for. Come link up any travels that you have been on recently and posted about, or any place you have experienced lately.